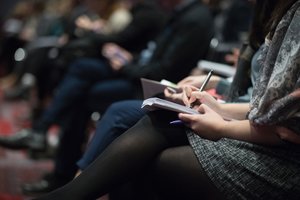 We have assembled some of the world's top journalists and FinTech professionals this year and are thrilled to have over 16 speakers including Jim Pavia, Money Editor at CNBC; Rob Urban, Managing Editor at Bloomberg; Rick Newman, Columnist at Yahoo! Finance; and Gertrude Chavez-Dreyfuss, Forex and Treasuries Correspondent at Reuters. These fintech media influencers, and more, will be sharing unique insights exclusive to our conference.
FinTech Meet the Media Conference 2019 will be hosted at the Zicklin School of Business at Baruch College: 55 Lexington Ave at 24th Street, New York. The conference is a full day, starting with check in at 8:30am and ending with cocktails at 5:30pm hosted by Muck Rack. The cocktail reception will take place at the Muck Rack office rooftop located at 96 Spring Street.
If you have questions regarding becoming a speaker, sponsor, or would like to attend this year's conference, please contact us.
2019 Schedule of Events
8:30 AM – Check-In and Continental Breakfast
9:15AM Welcome Speaker
H. Fenwick Huss, Willem Kooyker Dean, Zicklin School of Business, Baruch College
9:30 AM – Media Panel
Moderator: Kent Holland, Managing Director, KIVVIT
Penny Crosman, Editor At Large, American Banker
Andrea Fiano, Editor, Global Finance
Rick Newman, Columnist, Yahoo! Finance
11 AM – Media Panel
Moderator:Kevin Dinino, President, KCD PR Inc
Gertrude Chavez-Dreyfuss, Forex and Treasuries Correspondent, Reuters
Jim Pavia, Money Editor, CNBC
Jesse Rodriguez, Director of Booking, MSNBC
Clea Simos, U.S. TV News Desk Team Leader, Bloomberg TV
Lauren Young, Wealth Editor, Reuters
12:30pm – 2pm – Luncheon Presentation: New Academic Research in FinTech
Moderator: Linda Allen, William F. Aldinger Chaired Professor, Bert W. Wasserman Department of Economics and Finance, Zicklin School of Business, Baruch College
Nizan Geslevich Packin, Algorithmic Decision–Making: The Death of Second Opinions, Associate Professor of Law, Zicklin School of Business, Baruch College
Richard Holowczak, Ph.D., Associate Professor Paul H. Chook Department of Information Systems and Statistics, Zicklin School of Business, Baruch College
Charles Hwang, Consequences of the Bitcoin Halving, Managing Member at Lightning Capital Management Group, Adjunct Professor Blockchain/Cryptoassets, Paul H. Chook, Department of Information Systems and Statistics, Zicklin School of Business, Baruch College
Gideon Pell, Regulating Crypto Exchanges: Mind the Gaps, Distinguished Lecturer, Paul H. Chook Department of Information Systems and Statistics, Zicklin School of Business, Baruch College
2 PM – Media Panel
Haley Draznin, Reporter/Producer, CNN
Hannah Genig, Event Content Producer, Benzinga.com
Jeff Kauflin, Staff Writer, Forbes
Rob Urban, Managing Editor, Bloomberg
Evan Weinberger, Assistant Managing Editor, Bloomberg Law
3:30 PM – Best Practices Session
Gregory Galant, CEO of Muck Rack, The Shorty Awards and Sawhorse Media
4pm – Closing Panel: AI Disruption in Banking, Brokerage and Beyond
Moderator: Michelle Tran, Head of Business Development, Harness Wealth and Founder, NYC Fintech Women
Chris Butler, Chief Product Architect, IPSoft
Asya Bradley, VP of Partnerships, Socure
Rak Chugh, Founder & CEO, Byte Academy
Jennifer Lendler, Managing Director | AI & Blockchain, PwC
Kelsey Weaver, Chief Business Development Officer & Co-Founder, Neocova
5:30 PM – Cocktail Reception hosted by Muck Rack
Please join us on the rooftop at 96 Spring Street